Announcements
Depositing Money into a Student Account
The RedBird Cafe accepts cash for meals. Money can also be deposited in a student's lunch account through Skyward or the Main Office.
————————————————–
Free or Reduced Meals
To apply for free or reduced-price meals, use the Household Eligibility Application. Submit the completed applications to the Superintendent's Office. Free & Reduced Application
————————————————–

School Policy Concerning Negative Lunch Account Balances
Students will be allowed to accrue a negative balance of -$10.00 before they are no longer allowed to add to the deficit. Once a lunch account reaches -$10.00, students will receive a peanut butter and jelly sandwich (or a cheese sandwich if a food allergy is an issue), carrots and celery, and a milk. Students will not be allowed to purchase any additional or a la cart items unless they have cash for the purchase or until the account reaches a positive balance. Additionally, an email will be sent home and a phone call home will also be made.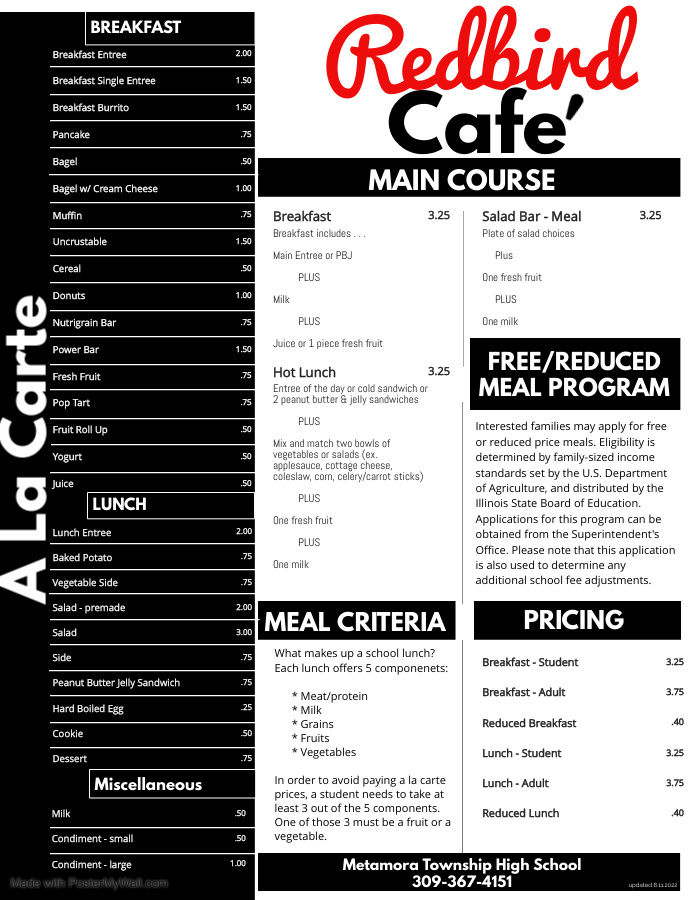 Served Daily: Fresh Fruit, Cereal, Breakfast Bars, Bagels, Friters, Breakfast Burritos, Juice, Milk – 1% White, Milk – 1% Chocolate
Served Daily: Salad Bar w/Assorted Vegetables & Fruit, Soup, Dessert, Baked Potato, Cold Sandwich, PBJ, Milk – 1% White, Milk – 1% Chocolate
This institution is an equal opportunity provider.
Menu items subject to change.