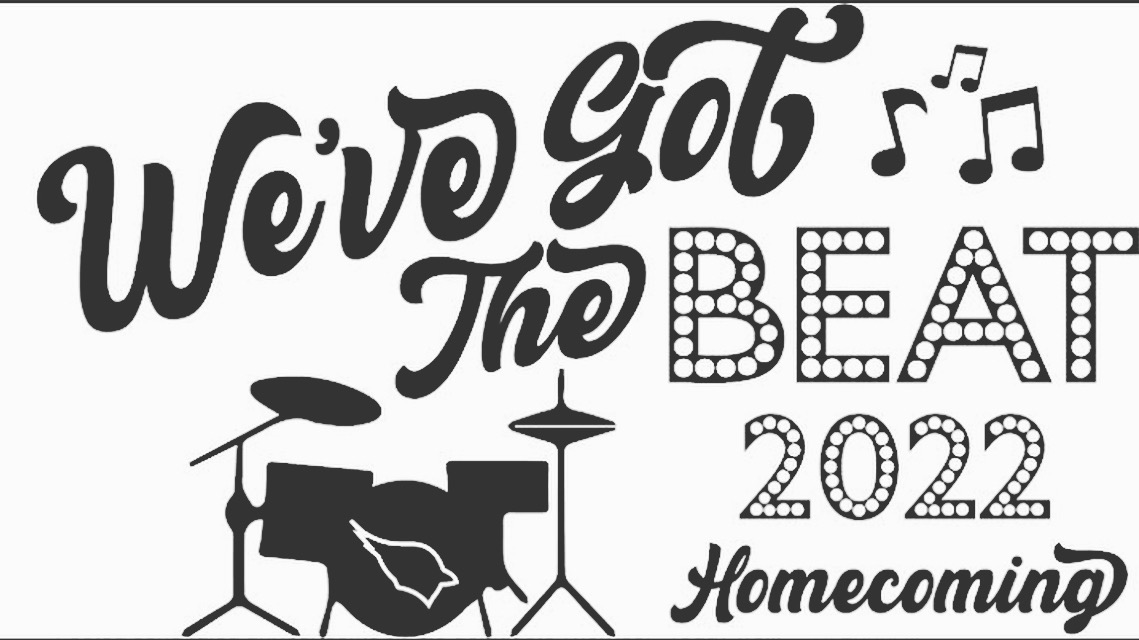 What You Need to Know ...
What a GREAT time to be a Redbird. Homecoming is just a few weeks away so keep your eyes peeled for upcoming events. This year our charity of choice is the Easterseals Learning Academy in Germantown Hills! Below you will find just a few ways we are raising money for the students at Easterseals!
Take a look at this slide presentation of all the fabulous activities and fun planned for Homecoming 2022 - We've Got the Beat!
Follow all things Homecoming on our MTHS Homecoming Instagram account. Scan the QR code to follow!
Bonfire Party - 4th Annual
Sunday, September 18, 2022
Sunday, September 18, 2022 from 6:00-9:00 PM. MTHS welcomes students, parents and community members to this fun event. The bonfire is the kickoff event for our fun-filled Homecoming week. You won't want to miss it!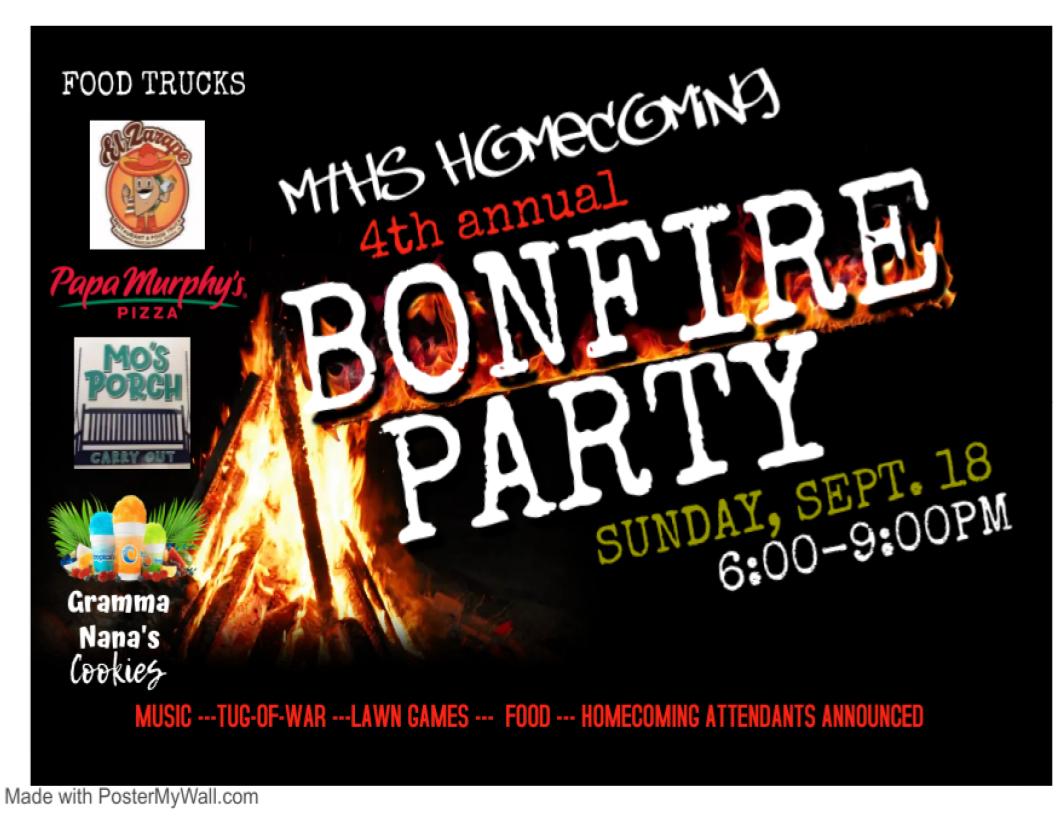 Dress-up everyday and keep the beat all week!
Dress up days are fun and exciting during Homecoming Week. The Hoco Committee will be tallying numbers of students who dress up to find which class had the most participation! Get your outfits ready to enjoy this fun time!
Note: Monday is anything but a backpack day. Remember, that it must be something you can carry. If you cannot carry it, you cannot use it.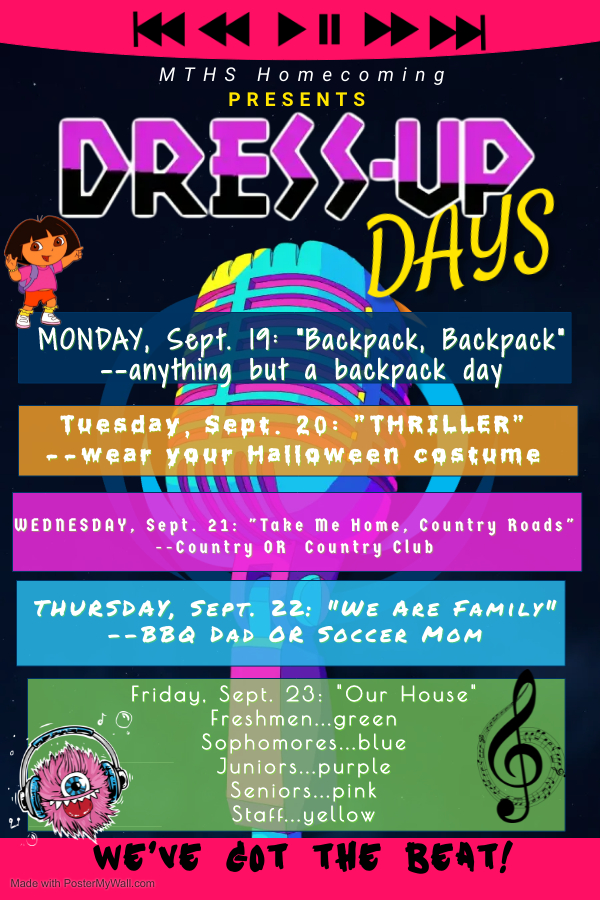 Ceiling Tile Painting Night
Wednesday, September 21, 2022
Come paint a ceiling tile on Wednesday, September 21st. This is an opportunity for you and your family to come to MTHS and paint a ceiling tile. Each tile is $25 and all proceeds go to support our amazing charity! Paints, brushes, and tiles are provided. If you are planning to do this night, consider buying Nelson Dinners so that you can have a Paint & Dinner night at the high school.
Homecoming Parade
Friday, September 23, 2022
The Homecoming Parade will be Friday, September 23, 2022 at 2 pm throughout Metamora. Check out the parade route to help you find your best viewing location!
The theme for this year's Homecoming is "We've Got the Beat". Line up begins at 1:00 pm in the parking lot near the baseball/softball complex off Wiedman Road. To view the parade line-up please use this link: 2022 Parade Line Up and find your group's "ready spot number" and use the map below to find the correct "ready spot".
Please contact Garry Finch with any parade questions at gfinch@mths.us or 309-367-4151 x553.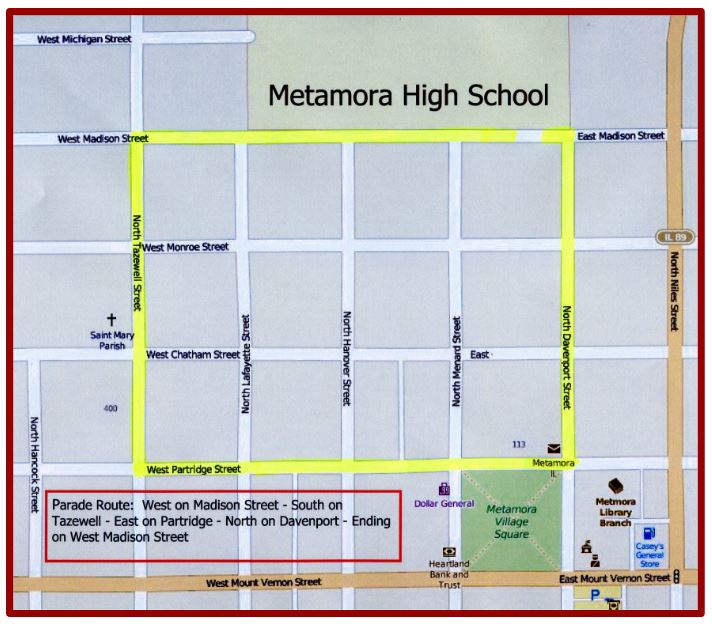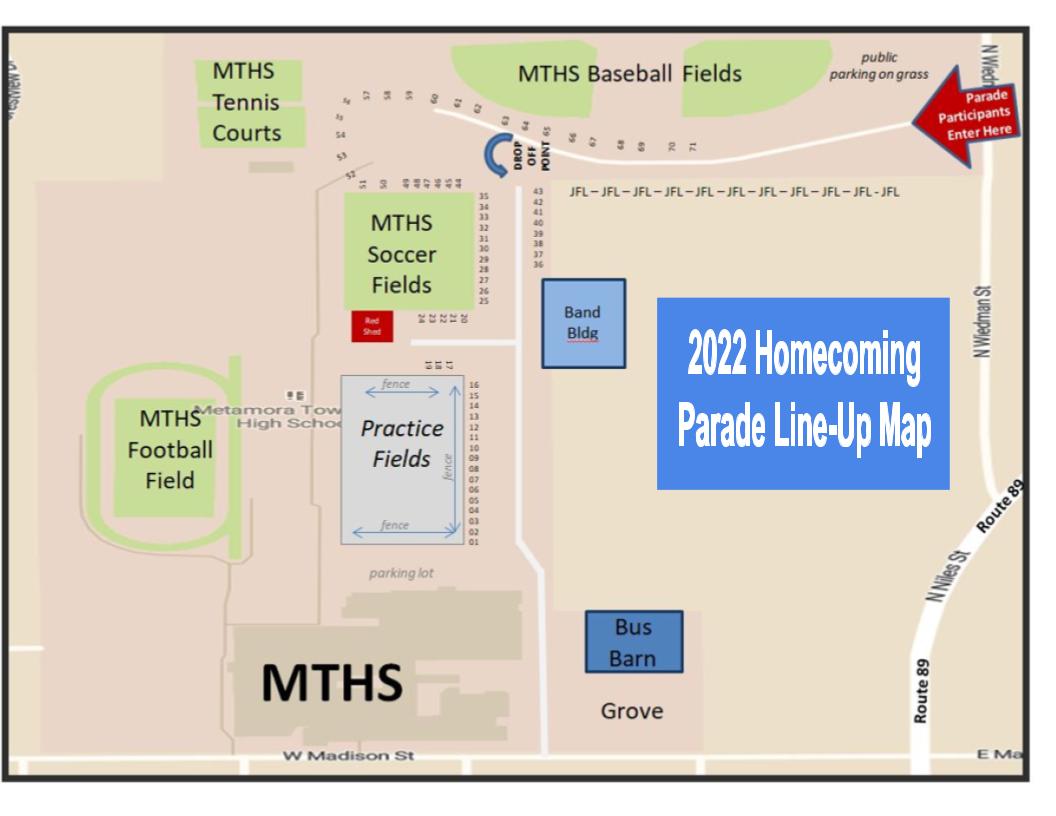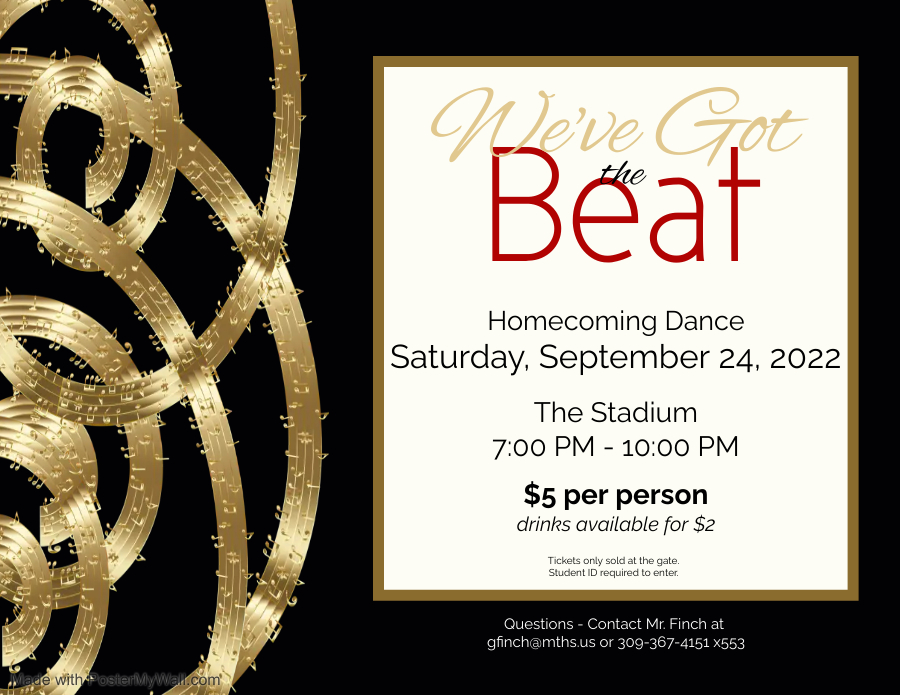 We've Got the Beat
The 2022 Homecoming Dance - We've Got the Beat will be Saturday, September 24, 2022 from 7:-00 pm - 10:00 pm at The Stadium. Anyone who is bringing a date from another school must submit a date request form prior to the dance. Forms are available outside the Assistant Principals Office or at the link below. Admission is $5 per person and drinks will be sold for $2. Pat Marchand, MVP Mobile DJ Service will make sure we have the Beat. Students come with a date, come by yourself or come with a group of friends!