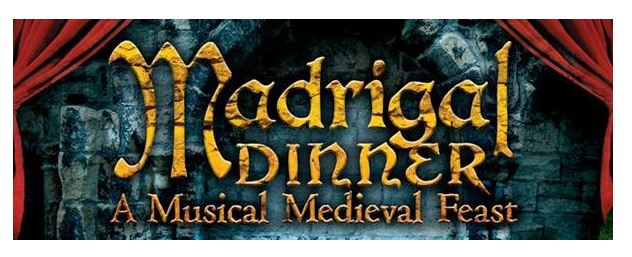 Description
The Madrigal Dinner, a medieval-style dinner theatre, entails several different participating groups. Auditions take place throughout the year for each ensemble (Madrigal Singers, Court Singers, Acting, Madrigal Brass, Court Players, and Recorders). Additionally, volunteer hours are available for students that do not want to participate in those specific groups. These hours can be accumulated through set-up time, food serving, and much more.

2022 Madrigal Singers
AJ Schwarz- Tenor
Alexander Schroff- Bass
Amare Bell- Bass
Anna Schnetzler- Tenor
Bri Short- Alto
Carrigan Craig- Soprano
Derek Hover- Bass
Ellie Cox- Soprano
Evie Morris- Alto
Jordan Barker- Alto
Keegan Mullins- Tenor
Lily Sturgell- Alto
Lottie Prather- Soprano
Makenna Reeves- Soprano
Olivia Morris- Alto
Owen Friedlund- Bass
Rylie French- Tenor
Madrigal Singers- your first rehearsal is TOMORROW (Thursday, August 25th) at 7:15AM. See you there!

2022 Court Singers:
Audrey Heil
Audrey Hodgen
Audrey Morrell
Gabby Lowrance
Jaylen Hentz
Lauran Reimers
Reigha Carpenter
Ruthie Stamm
Savannah Heerman
Victoria Truelove
Court Singers: Your first rehearsal date and voice parts will be communicated to you next week.
Madrigal Acting:
Addison Suarez
Additional acting parts and lines will be assigned at a later date.